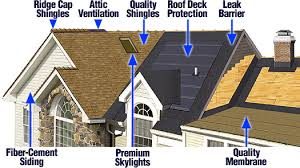 Thank you for considering Affordable Roofing & Restoration for your home. We understand that investing in a new roof, or a repair is an important decision for any homeowner, after all a roof is what protects your family. We are dedicated to providing our clients with a quality, fair priced product while providing exceptional customer service.
Protect Your Investment
For most people, their home is one of the largest investments in their portfolio. That's why it is so important to ensure the roof over that investment is in good working order. A small leak alone can lead to rotten decking, damaged rafters and eventually a costly repair. If your home is caught in a hail storm, exposed to high winds that can tear shingles away or if you see shingles curling or cracking due to sunlight, then be sure to contact us for a free inspection.
Residential Roofing Materials
When the time comes to replace your roof we will work with you on selecting the best materials for your home. While manufacturers warranty their products for up to 15, 30 or 50 years, the actual lifespan is in part dependent on the local climate, your unique roof line as well as attic ventilation. Three key factors we will take into place when working with you are exposure to high winds, fire resistant classifications, and impact resistance.
Questions?
We are happy to answer your questions, from general maintenance to any concerns you have about possible damage to your roof. We love what we do and with years of experience under our belt we can safely say we've just about seen it all! Click here to contact us today.