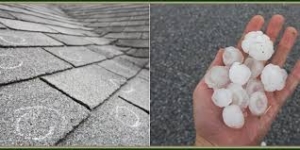 Walk around the outside of  your home:
Take photos and make notes as you look for areas where roof repair might be needed like under the eaves,siding, on the shingles, on gutters, and anything else that took damage.
 Check inside attics and basements for evidence of water leakage and cracks in the roof:
It's easy to forget that many storm problems end up causing interior damage to ahome. That usually means in places like the attic and basement. Look for water damage, leaks, and other interior damage to a home.
 Talk to neighbors and find out if their homes had damage:
Touch base with trusted neighbors and see if they suffered any storm damage. Extreme weather conditions tend to leave their marks in your community so if your neighbor has shingle or gutter damage, the chances are you do too. It's all about networking and gathering as much information as possibleto take to your insurance company.
File your Claim
Call your agent as soon as you notice the damage. Practically all homeowner's policies cover hail damage. Your agent or company may request you call a roofer to confirm damage.
Select a Repair Company
After an insurance adjuster has surveyed the hail damage to your property, select a reputable roofing company to make repairs.
Allow only the insurance adjuster and the roofer you have selected to getup on your roof. Each time someone walks on it, more damage can occur.
Be wary of out-of-town roofers who move into an area and set up shop following a storm. While most of these firms are reputable, some havec ollected money from homeowners and moved on to the next storm site without paying suppliers or leaving work unfinished. This can leave homeowners holding the bag for those additional costs. Its a good idea to select a company with established credibility and local references. Word of mouth is still your best guide.